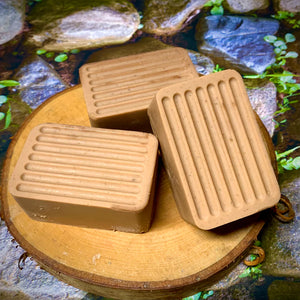 Sunny Bungalow New Year 2023 Newsletter
Welcome!
Over the last year we welcomed so many new customers, and saw the return of so many of our regulars. Despite our aversion to marketing and advertising, our customer base continues to grow thanks to word-of-mouth. We remain eternally grateful to all of you.
Down the Rabbit Hole
It's impossible to ignore the increase in costs over the last few years. Thanks to good planning and purchasing, we were able to stock up on many materials during the first sign of troubles. Those supplies are dwindling, and our material costs are starting to catch up with the rest of the world.
While other handmade soap makers have had to raise their prices, our's have stayed unchanged until now. On the first of March the costs of the soaps will increase slightly. For a product that you use daily, lasts a long time, and brings so much scented joy, it's still quite a bargain.
Similarly, postage fees have increased in bunny-rabbit leaps and bounds over the years, while our shipping charges haven't changed at all. Starting March 1st, shipping will change from $4 to $6, with free shipping for all orders over $40.
Something New, Something Fresh
At the request of several customers we added a new Lavender Colloidal Soap to go along with the unscented version. Both are made with colloidal silver in a base of skin-soothing shea butter, coconut, and olive oils.
Another new soap is Narcissist - Woodsy Egyptian musk and patchouli spiced with the subtle sweetness of cinnamon, orange blossom, and hints of anise, with a base of soft rose clay. It smells and feels as amazing as it looks.
We also added a "Limited Batches" category for the soaps that Deb doesn't keep them stock regularly. Some are time-consuming projects that are fun to create, while others are based on materials that are in limited supply or difficult to acquire. As such, there's no guarantee when (or even if) they can be restocked.
Just for Fun
The 80s was the era of the mix-tape, a tradition I've carried on making mixed CDs, flash drives, and playlists for Deb. Last year for fun I created an entire streaming radio station to listen to around the house while Deb's making soap and while we're relaxing in the evening. It broadcasts on FM to any radio in the house (and to parts of our town thanks to my somewhat FCC Part 15 compliant transmitter). It also streams online so we can listen on the road. I also added some retro jingles I found online, scheduled programming, and a few funny bits here and there. I'm constantly adding new songs and overall having a lot of fun with it.
And the best part is, it's all ad-free.
We're inviting our Sunny Bungalow friends to join us. A streaming player, schedule, song request form, and more information can be found at radio.sunnybungalow.com.
---
That's all. As promised we intend to keep these newsletters infrequent and roughly seasonal.
We wish each and every one of you and your family Blessings for the coming year!
With love, Deb and Jon
---
2023 - Year of the Rabbit

The year of the rabbit in the Chinese zodiac is associated with traits such as grace, sensitivity, calmness and embracing change, and is considered a lucky year for relationships, artistic endeavors, and personal growth.